Yes, it is very possible to run one or even two 15,000 BTU AC units off of solar and batteries in your RV. Many of my customers also want to make coffee, dry their hair, or run the microwave without waking up everyone with the noise and fumes of a generator.
All of these big load items will use about 1600w of electricity each. Some primitive campground sites have quiet hours from 10:00 pm to 6:00 am. You will need a good 3,000 watt inverter and a big battery bank will increase your run time. This may be restricted by your budget or by the space you have available inside your RV.
Running the AC off of Batteries and Solar in Your RV
RV manufacturers don't design their motorhomes and trailers to run air conditioning units from battery banks and solar panels because it adds a lot of expense. A LOT of expense. And, many people use their RVs only in RV Parks. So, it's going to take some special equipment to make it work right…
Inverter
I use a Victron MultiPlus 3000 hybrid inverter/charger that enables me to run two 15,000 BTU AC units for a few minutes! The 12 volt version will also charge your batteries with 120 amps when plugged in or on shore power. The hybrid section of this inverter will allow you to utilize 900 watts and up from shore or generator power while using the batteries & solar to complete the rest of the load. This is a great way to run the AC while driveway camping!
You should choose a quality inverter to ensure that you will not be required to install a soft start on each AC unit. If your looking at running the AC on a regular basis, it might be worth considering 24 volt inverters as well. We have to take in account the inverter efficiency rating, in my case 92% and 22 watts just to have the inverter on. Any time heat is created, like a battery cable or inverter, energy is lost and will take away from your runtime.
Batteries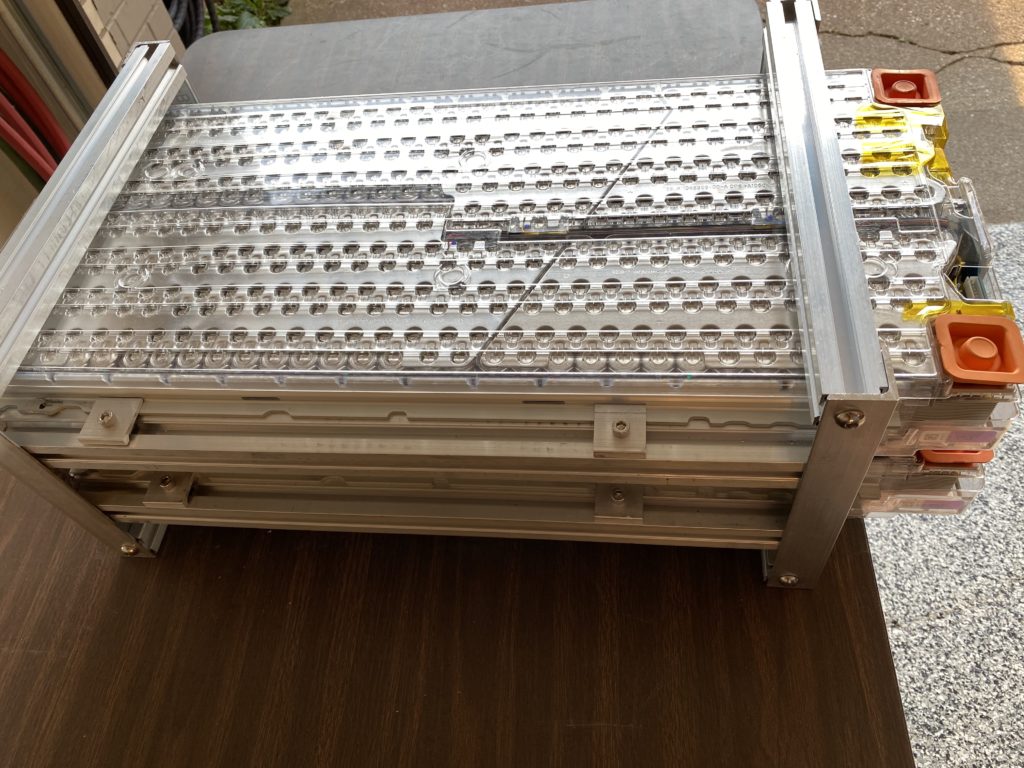 Without solar input it will require at least two 100 amp hour Lithium batteries to handle the load, which will drain the pair in about 80 minutes.
I also install used Tesla car batteries, and one of these modules will run the same AC unit for about three hours with options for more modules. I installed Tesla car batteries into a client's RV, for the specific purpose of powering the air conditioning unit. Read more about that project here.
Each AC unit will consume about 1,600 watts or ~140A @ 12 volts. This is a huge load for standard lead acid batteries. Read my previous article, "Is lithium right for my RV".
You can run the load on lead acid batteries but it will take about 400# batteries and there are a lot of variables to consider, most importantly Peukert's Law. It is critical to have a way to recharge lead acid batteries when you have such high demands on them. The more time a lead acid battery spends at a discharged state, the more capacity it will lose – How far to discharge your lead acid battery.
Solar Panels
Solar panels will offset the demand on the batteries. If you have good sun, and can harvest 800 watts of solar while using the AC, you can double the run time.
I have 1,600 watts of solar on my roof and I NEVER break even when running the AC unit. My solar panels are flat and very seldomly ever produce 1,600 watts, and never for more than a few minutes. How many watts of solar can you fit on your roof or deploy on the ground when required?
If this is something that you have interest in I can design, help you install or just provide you with a turn key system. Hire the BoonDoctor.