Which Solar Charge Controller is bet for my RV – MPPT or PWM?
PWM
Pulse Width Modulation is a great cost effective way use 12v panels to charge 12v batteries or 24v panels to charge 24v batteries. PWM charge controllers are best for smaller systems. Not all are created equal, make sure yours can adjust battery Absorption and Float voltage to future proof it.
The limitations of PWM start when the array size gets bigger and further away from the Battery. Once you try to push > 50-60A at 19v and 15′ from your solar panels to your charge controller you will loose efficiency. This size of array will justify a MPPT controller.
MPPT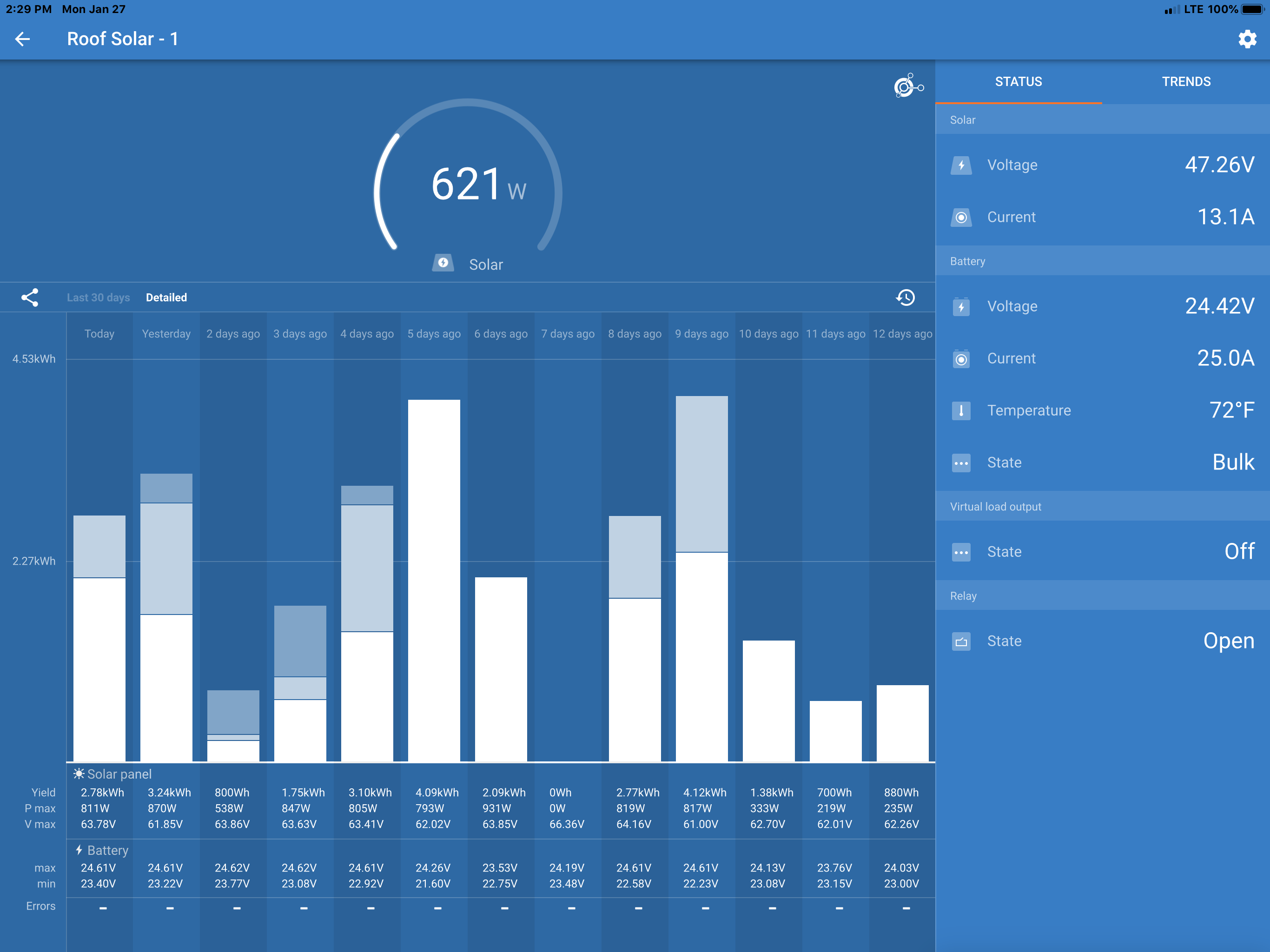 Maximum Power Point Tracking will shine when running residential panels or a series of panels with more than 24v. My panel voltage is ~65v and in dusk/dawn times I will have ~40v and that allows my MPPT to charge my 24v battery! The next benefit is I can put my 65v panels 75′ from my controller (in direct sun) with minimal voltage drop.
There are two drawbacks, Price and Charge Initiation. Charge initiation on MPPT requires the panel voltage to be 5v more than battery voltage before the charging process can start. The panel voltage can be reduced after the charge has started. The price will be a nessecary evil when your array wattage >600w or when panel voltage is higher than 24v.
Conclusion
There are many decisions when designing your solar system. I would suggest you look at your current situation and long term situation. My solar charge controller is oversized to accept ground panels or second life as cabin or shed in the future. We have all seen many manufactures claim that MPPT has more efficiency than PWM but I have yet to see where a 3rd party has documented any difference worth the price difference in RV sized applications. Please help the site by purchasing at my store.