ATC is finally installing the Norcold N10DCSSR compressor fridge at the factory! I am not sure if this is because of the failure rates of the Ammonia based systems or because of the industry shortages caused by covid, but I am very excited to see them as a stock appliance. The first trailer I worked on with this fridge did not come with a manual so I made a short video on the controls and a brief look inside.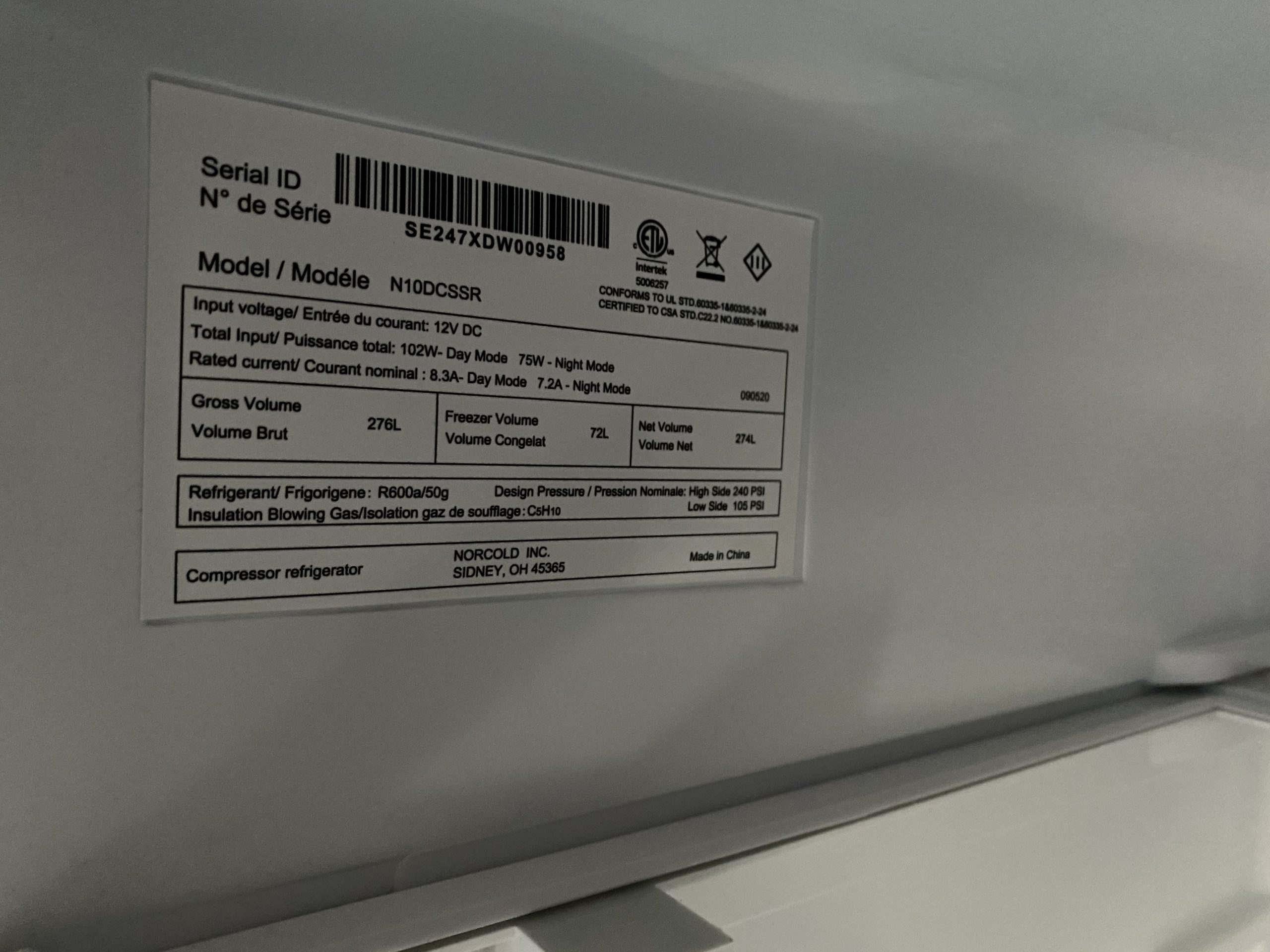 This is a BIG upgrade, going from 8 cu ft to 10 cu ft and will be well received. Your RV can be at angles around 30 degrees and will still work great. The fridge will get down to temperature and hold it very similar to the one in your kitchen. Of course don't forget about the extra 2 cu ft of room! The big concern here is the battery consumption of the new fridge. It will use 102 watts in day mode and 75 watts in night mode when the compressor is running. The hotter it is inside the RV the more it will run and the colder it is in the RV the less it will run. My 8 cu ft compressor fridge typically will use about 60AH of battery a day, click here if you want to read about it.
How much Battery does it use?
After a recent install I was able to run the new Norcold N10DCSSR for a 48hr test using two BattleBorn batteries and a Victron Smart Shunt to measure battery usage. This unit is on par with my Norcold fridge and its ability to recover from warm food/beer, and it seems a little quieter. With this data and 3 years of experience with my 12v fridge, this 10 cu ft Norcold will use about 80AH per day.
With the 12v Norcold refrigerator and parasitic loads of the trailer I estimate 100AH of  battery usage per day to JUST keep the food cold and lights Off. This will require 200AH of battery capacity if you only use half. ATC has been setting up the Victron Battery Protect (not the Smart version) at 11.9 volt cut off to protect the battery from over discharge and capacity loss.
Pros
You will get an extra 2 cu ft of space.
Faster Recovery from warm food/Beer/air.
Works at angles up to 30 degrees.
Cons
Battery hog and can be problematic if boondocking without solar.
You will need a better battery charging system!
Keeping the Batteries Charged
If your RV is almost always plugged in, you are sitting great! If you use your ATC Toyhauler unplugged and expecting the food to stay cold for days at a time you will have to find a way to charge the batteries. The stock Progressive Dynamics converter will produce about 350w of DC power (they do make stand alone versions up to 1000w). If you use the generator/shore to power converter you will need to run the generator for at least 4 hours a day. The 5500w Onan generator will use .5 gallon an hour, this will take away some fuel from your Toy.
Solar is a great option if you ask me. I would recommend at least 400w of solar to keep the food cold and the lights off. My 700w package will do fine for most people, and an extra solar panel never hurt anyone. How Much Solar Do I Need For My RV?
Takeaway
Overall almost everyone will be happier with this new fridge. If you have one or two stock ATC lead acid batteries (84AH each & I consider this comical for boondocking) your batteries will not run the trailer for 24hrs without charging! Make sure your battery bank is in good shape and the correct type. BattleBorn batteries would be a good choice here.