Where to Mount the Solar Charge Controller and Circuit Breakers?
Close to your Batteries!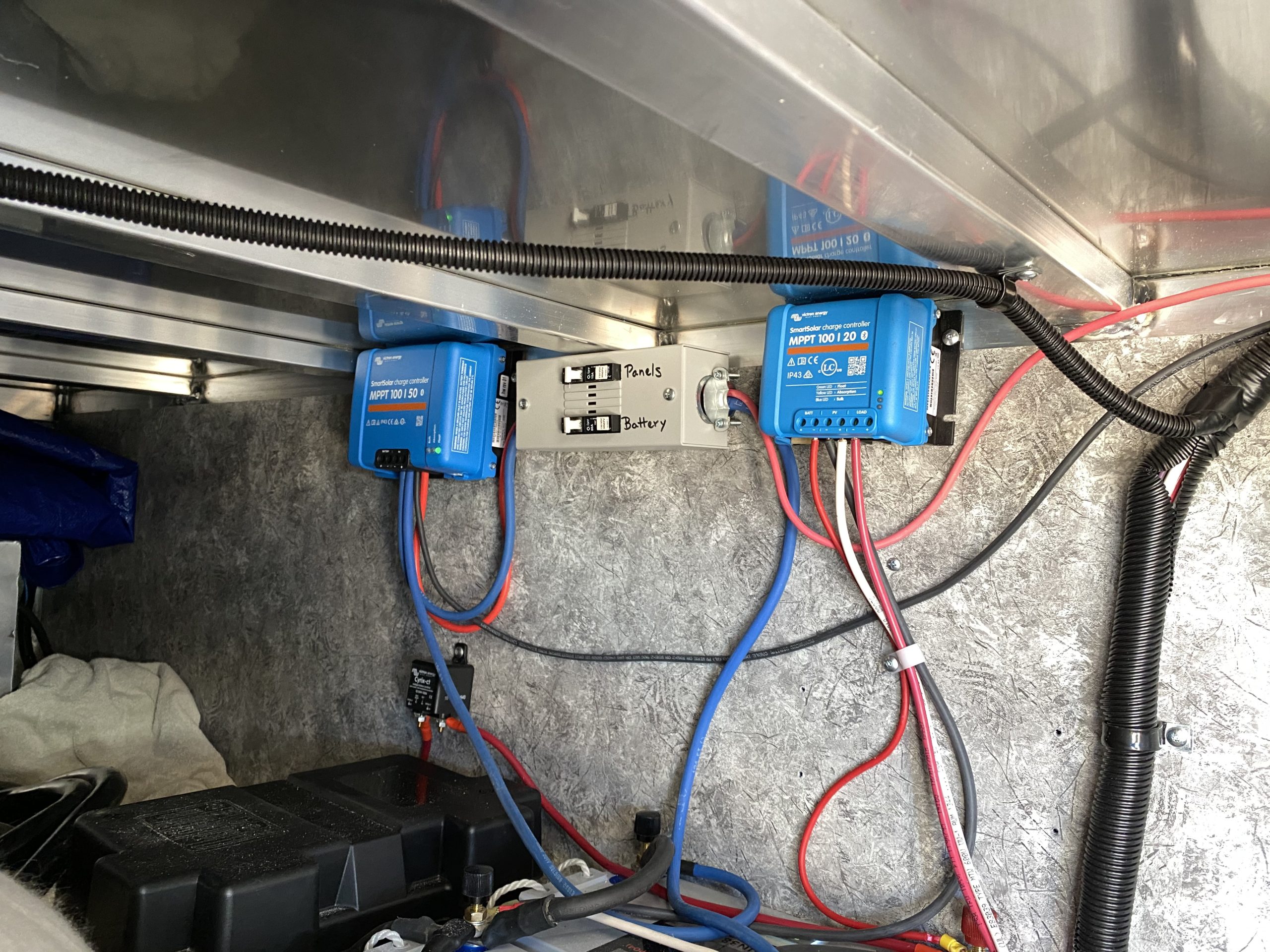 Victron Solar Charge Controllers have an internal temperature sensor so it is important to mount close to the battery. With it being mounted close to the battery and same temperature this will suffice. Common sense will come in handy here, do not mount the charge controller on outside wall or next to water heater. If you have a Lithium battery, the solar charge controller will not change voltage with temperature but can be set to not charge below a certain temperature. You will need to use stand alone temperature sensor if you can not get the Solar Charge Controller and battery close enough to have the same temperature.
The Solar Charge Controller will need to be mounted securely, this is harder than it could be in an RV with regular earthquakes! I will find a stud and in ATC trailers you will not need a chassis ground as long as at least one mounting screw touches the stud and the Controller.
Fuses or Breakers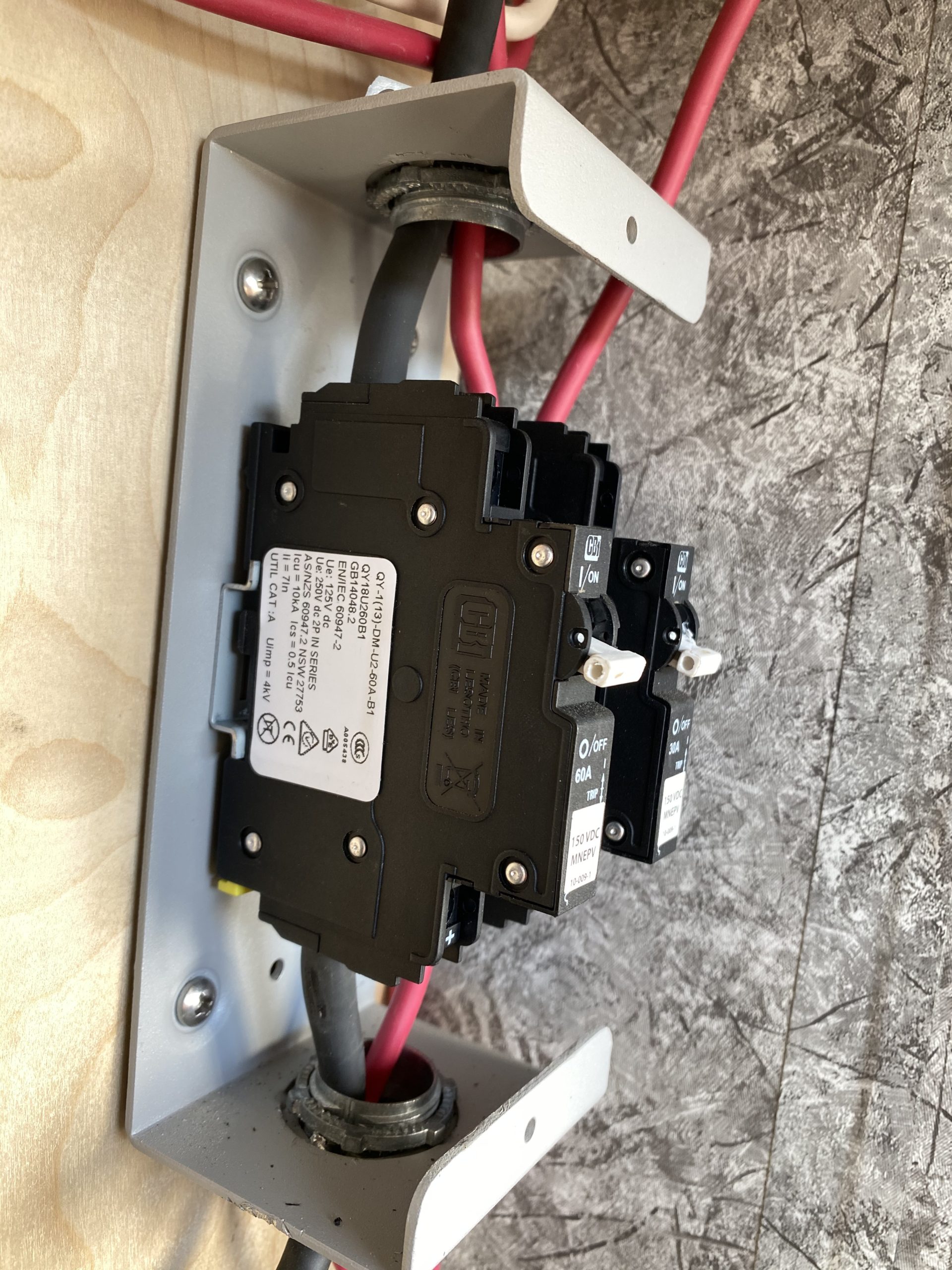 When looking for DC breakers and fuses, it is important to make sure that they are rated correctly. Most are rated for <48v and this is easy to exceed when connecting the solar panels in series or with residential solar panels connected in parallel. Fuses are more economical but are single use and not as easy/fast to take offline. I don't want to be in the middle of nowhere with a blown fuse and not have another close.
When I dug deeper into the Circuit breaker I found MidNite Solar to produce a great economical products. They make a Baby Box that accepts 4 single space(150v) DC breakers or 2 double spaced (300v) DC breakers. Their 150v DC breakers range from 1A-63A and will accept up to 2ga welding wire (tight fit). This is a well known reliable solar product that I have found reliability in.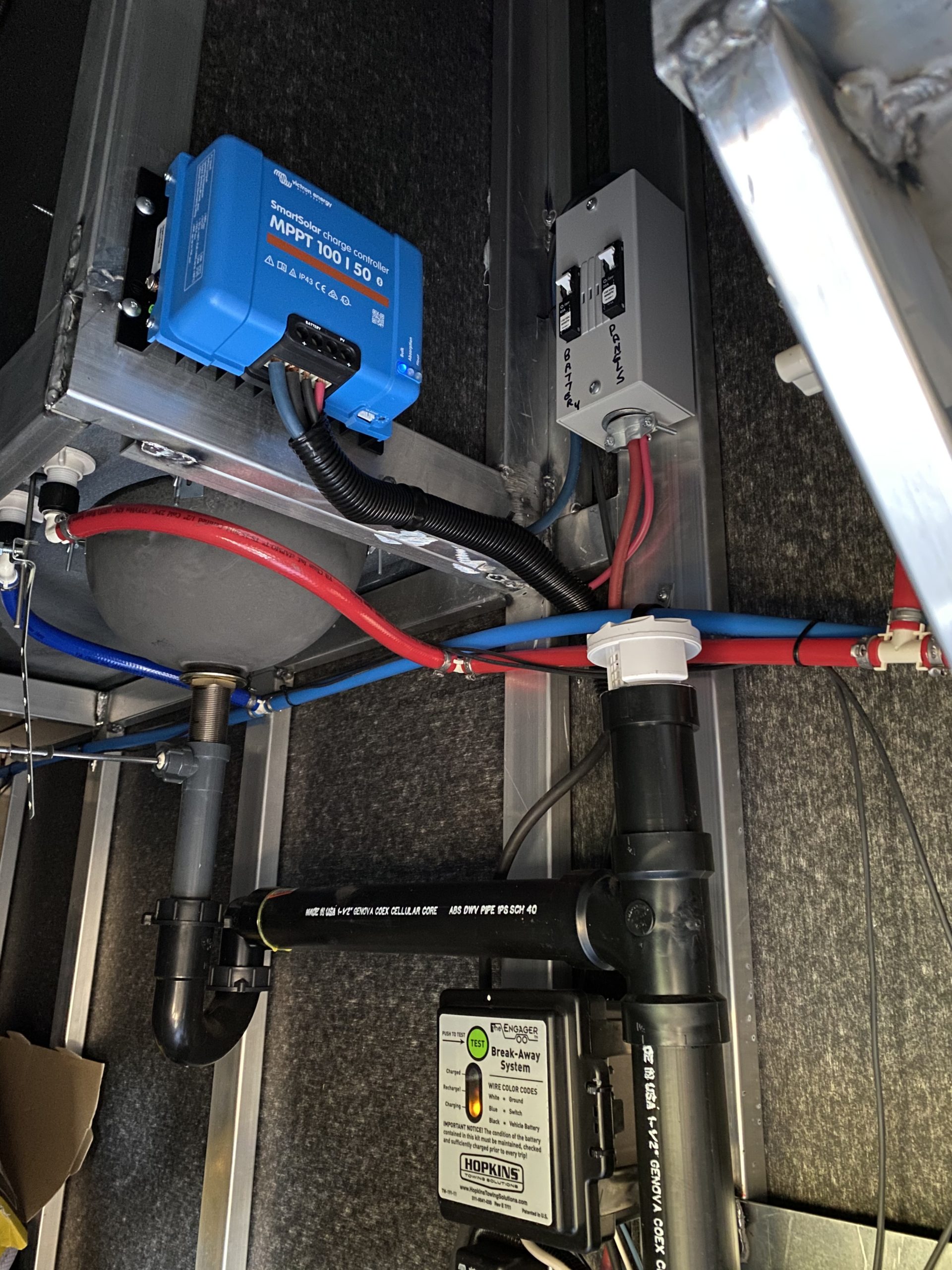 Mounting
When mounting the Baby Box I recommend find a place close and keep wires short, I also try to make sure to use mounting screws as chassis ground whenever I can. This will eliminate an extra wire. The all aluminum ATC trailers make this an easy task!
If you have an ATC studio trailer I feel it it is important to mount as many of your electronics above the water lines. A small water line leak could end up being a huge issue if it drips/sprays on sensitive electronics!
Sizing
It is important to get the correct size breaker for your circuit. If you maximum panel wattage is 700 watts and panel voltage is 60v (700/60=11.6) you will need a 12A or bigger circuit breaker between the solar panels and the Solar Charge Controller.  If we look at the same 700 watt solar panel system and the average charging battery voltage is 13.6v (700/13.6=51.5) you will need a 52A or bigger circuit breaker between the Solar Charge Controller and the battery.
I do sell MidNite Breakers and Victron Solar Charge Controllers at my Store.