You can certainly power your RV with Tesla batteries. They are lithium batteries, just more advanced in design, and they operate at 24 volts instead of 12. They are also shaped much differently than most lithium batteries, so finding room may be unusual. But certainly, you can power your RV with Tesla batteries.
Should I Power my RV with Tesla Batteries?
Here's my experience with powering an RV with Tesla batteries.
The Back Story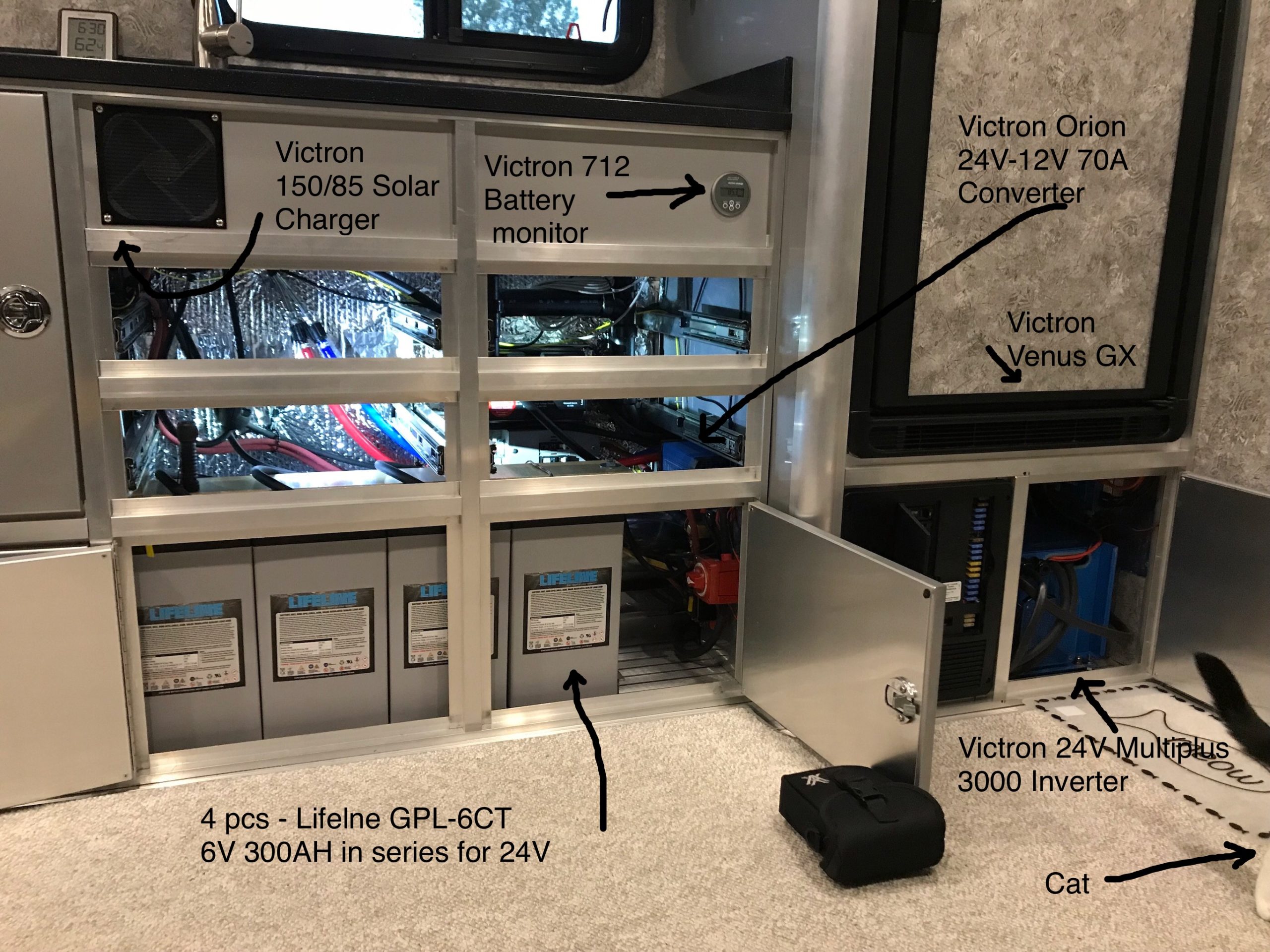 For the first year of being full-time in my RV, my battery bank consisted of four 6 volt AGM batteries made by Lifeline. I had them wired up to produce 24 volts, and they could offer me 240 amp hours (AH) of useable power. I was able to run the microwave, air conditioning unit and water heater without any issues, just not all night long.
I do have 1,600 watts of solar panels on the roof which helped with voltage sag during the day. My batteries fit nicely under the sink. With "chasing 70 degree weather" across the country, my typical route always kept my batteries above 40 degrees F. Since I do not have a generator to produce additional electricity, upgrading to a Lithium battery bank seemed attractive.
I found several occasions when my AGM battery bank ran out of power running the bedroom air conditioning unit at night (Peukert's law robbed my batteries of about 40% of capacity with high amp draws).
Because AGM batteries require being fully charged at least once a week, it demanded that I park my trailer in such a way to maximize solar harvest. This involved facing south, away from trees, poles, and other obstructions. During late Fall and early Winter, when there's less daylight hours, it was challenging to get my battery bank fully charged. Likewise, during the hotter period of the year, I wanted to park in the shade, and that too made it difficult to get maximum charge.
The Case for Tesla Batteries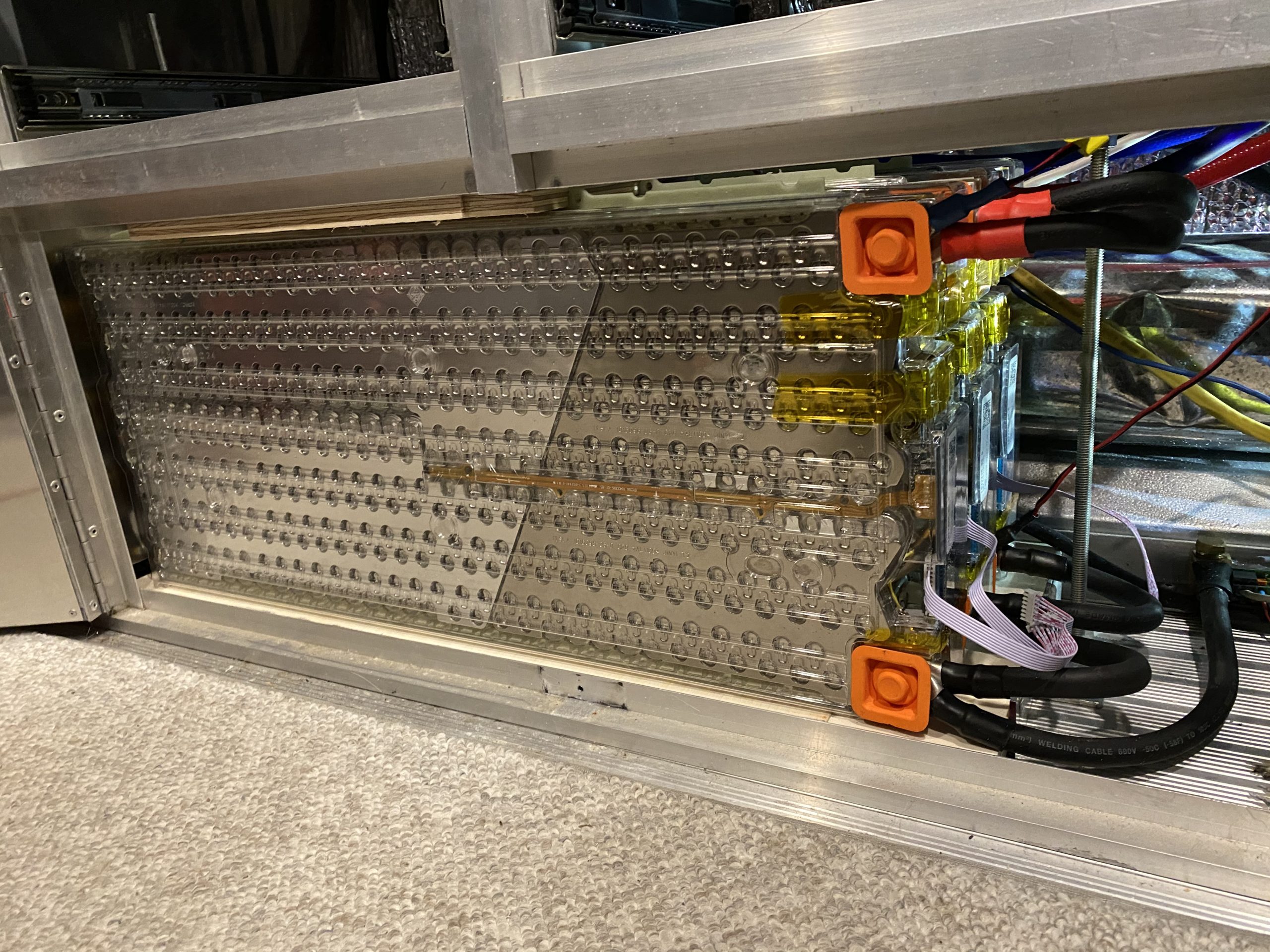 Lithium batteries have some good traits. They seem to thrive under high usage, and they don't require periodic full-charging. They can charge faster than other batteries, and Peukert's law (that I mentioned above) doesn't apply to them!
I do like that lithium batteries are much lighter and that they can have a smaller footprint. I first looked at Battleborn's "drop in replacements" but to replace my 300AH @ 24v would consist of 6 batteries. They would not be able to fit in the same cabinet where I kept my AGM batteries, and they would cost $6,000.00! I really wanted more capacity, however. When I looked at the used Tesla Model S battery modules, I realized I could fit three in the same space and they'd yield me 600AH with a price tag of $4,000.00.
Tesla Model S Module Specs
The Tesla Model S Module specs look like this:
Capacity (ideal)
5.2 kWh (233 Ah)
Module Energy Density
198 Wh/kg
Discharge Current (max, 3s)
1,520 A (~6.5C)
Discharge Current (10s)
1,000 A (~4.3C)
Discharge Current (continuous)
233 A (~1C)
Discharge Power (max, 3s)
30 kW
Discharge Power (continous)
5 kW
Charge Power (max, 10m)
8 kW
Charge Power (continous)
5 kW
Cell Configuration
6 series of 74 parallel (6s74p)

444 cells

Weight
58 lbs (26.3 kg)
Dimensions (approximate)
27 x 12 x 3″
Voltage (nominal)
22.2 V
Voltage (max)
25.2 V
Voltage (minimum)
18 V
Cell type
Tesla Custom Panasonic 18650

(similar to NCR18650B)

Cooling
5/16″ tubing (8mm)

Required when (dis)charge >= 1C

Max operating Temp
60C / 140F
Min operating Temp
-18C / 0F
Min Temp. (charging)
4C / 41F

(Charge rate should be limited at low temperatures)
My Tesla Battery Installation
I installed my Tesla batteries without a BMS (Battery Monitoring System) and ran them for the first 3 months that way. I do not suggest anyone running Tesla batteries this way! I was relying on other safety devices instead of a BMS. I do not plug into shore or generator power at all so that part was not a concern for me. I have been staying on the conservative side of the charge profile so far. I currently charge to 24.4v and down to 19.5. I estimate about 200AH out of each module.
next article – Setting up the BMS for Tesla Modules