Manufacturers of lead acid batteries tell us to charge batteries at absorption voltage (14.2 to 15.3) for 4-6 hours a day to achieve a full charge. This is a requirement to keep the full capacity of the battery and keep sulfation from forming on the lead plates. The easiest way to charge your battery correctly is with a programable solar charge controller. 
Myth – You will charge your trailer battery when towing.
While there will be some charge, typical trucks will have 14ga wire running from the front of truck to RV battery. You will be lucky to get 5A of current and about 13.6v to the battery. If we forget about the voltage loss, and you have 220AH battery capacity at 50% charged it will take 22hrs of driving to charge without calculating the constant draws on the battery.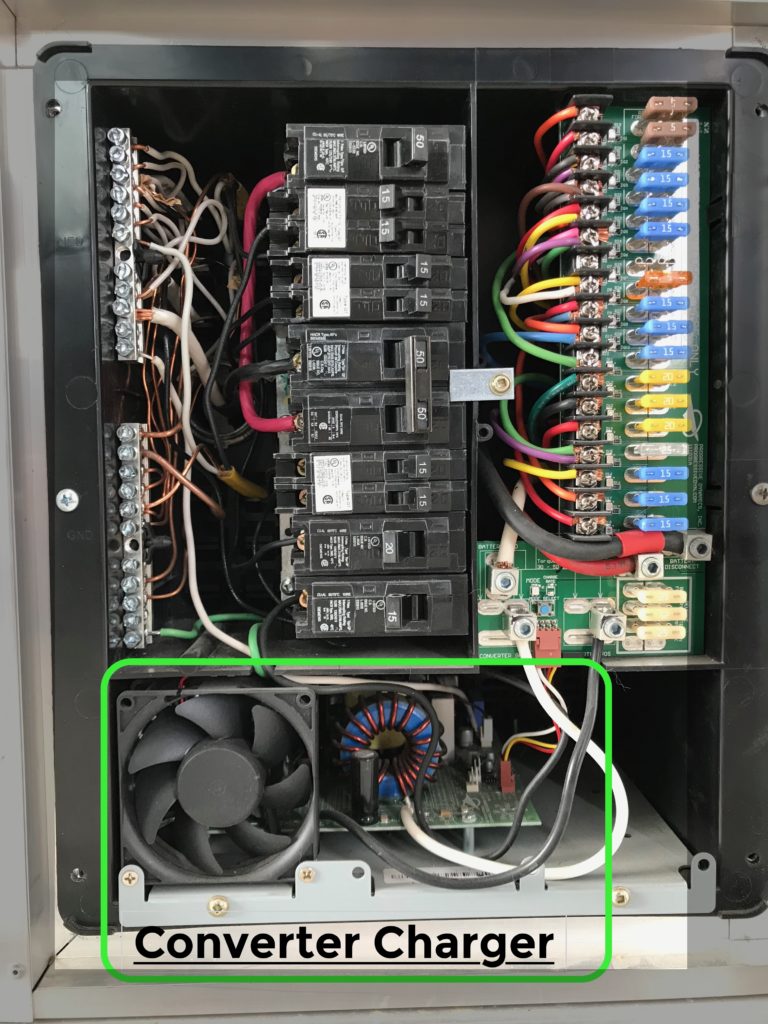 Your converter will convert 120v from shore power/generator to 12v to charge your RV batteries. If you want to see how your converter is doing, check battery with multimeter to see actual voltage of your battery.
To correctly charge any lead acid battery there needs to be some type of temperature compensation. One battery manufacturer, Lifeline states that Absorption voltage needs 15.8v @ 0 F, should be 14.3v @ 77 F and only needs 13.9v at 110 F. There is no converter with temperature sensor or ability for temperature compensation. A good Solar Charge Controller with internal or external temperature sensor can fix this issue. I sell Victron solar controllers here.
4 Stages of Charging Lead Acid Batteries
The converter falls short here because it does not have any temp feedback or accurate voltage feedback. There will be voltage loss in wire runs, converters are not programable for your specific battery charge profile or temperature compensation.
Bulk
The 1st stage, Bulk, will get the battery the most amount of current and charge, approximately 85% State of Charge (SOC). This is the most efficient stage of charging the battery as it will accept the most amount of electricity. Typical Flooded will accept a c/20 charger=20 amps per 100AH battery during the Bulk stage. Lifeline AGM will actually accept 5C charging, so 500 amps per 100AH of capacity! This Stage will take about an hour.
Absorption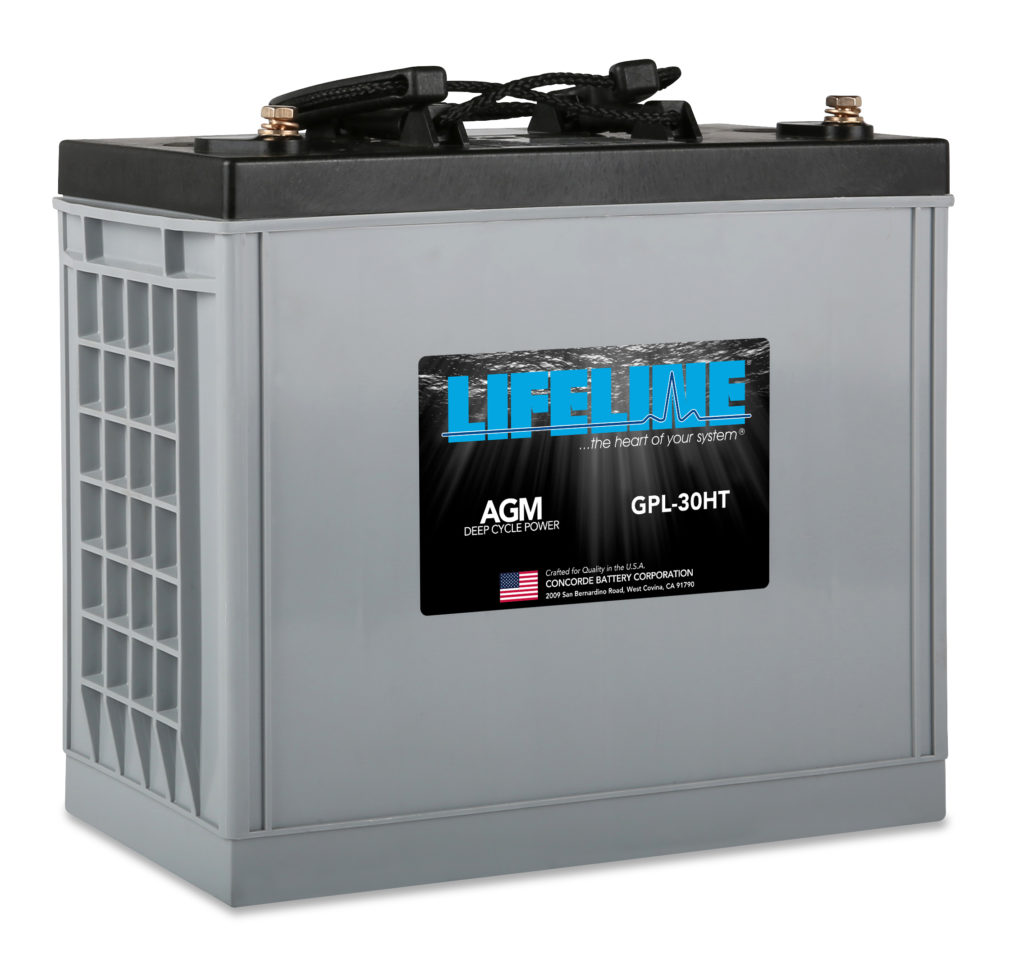 The 2nd stage, Absorption, is a constant voltage at say 14.4 volts. Interstate Golf Cart batteries want Absorption to be set at 15.3v@77 degrees, Crown CR235 GC want 14.5@77 degrees and Trojan want 14.8v@77 degrees.
The amperage will continue to fall throughout this stage. Most chargers decide an amount of time to stay in the Absorption stage according to the beginning voltage before Bulk mode started. Lifeline states Absorption stage is complete when the Tail Current is < .5a per 100AH of capacity.
At the end of this stage your battery is completely charged. This stage is typically 4 hours depending on SOC.
Float
The 3rd stage, Float, is to maintain the battery charge. This is typically 13.6v to compensate for any self discharge of the battery, and supply power for small loads on the system. These small loads could consist of a propane fridge, thermostats, propane sensors or a break away battery being charged. If you add a big enough load on the system, the charger will cycle back to Bulk stage.
Equalization
The 4th stage, Equalization, will reduce the sulfation on the battery plates by "overcharging" them~15v. Flooded batteries should be equalized every 2-8 weeks. This cycle will cause gassing of the batteries. You will need to measure the specific gravity of the acid during the process to determine when the cycle is complete. This should only be performed by someone who is familiar with this process! Some AGM batteries can recover some capacity with an equalization charge. You always should start at your battery manufacturers website your exact battery. This cycle typically can last 2-6hours.
Converter and Lithium Batteries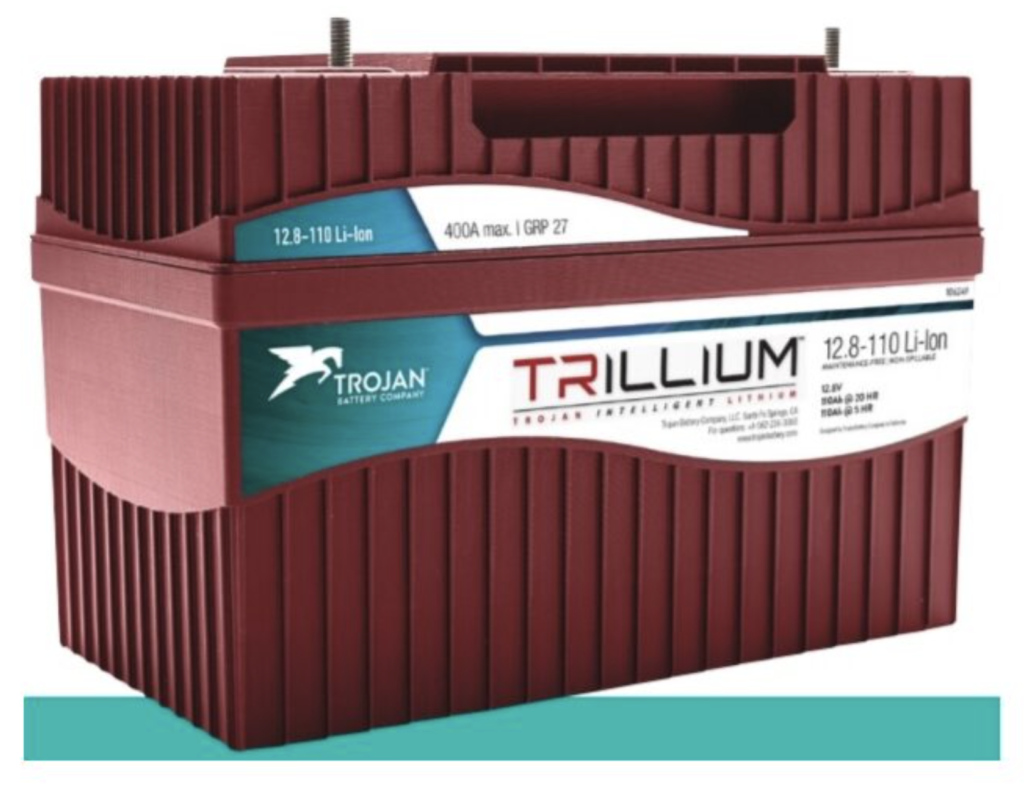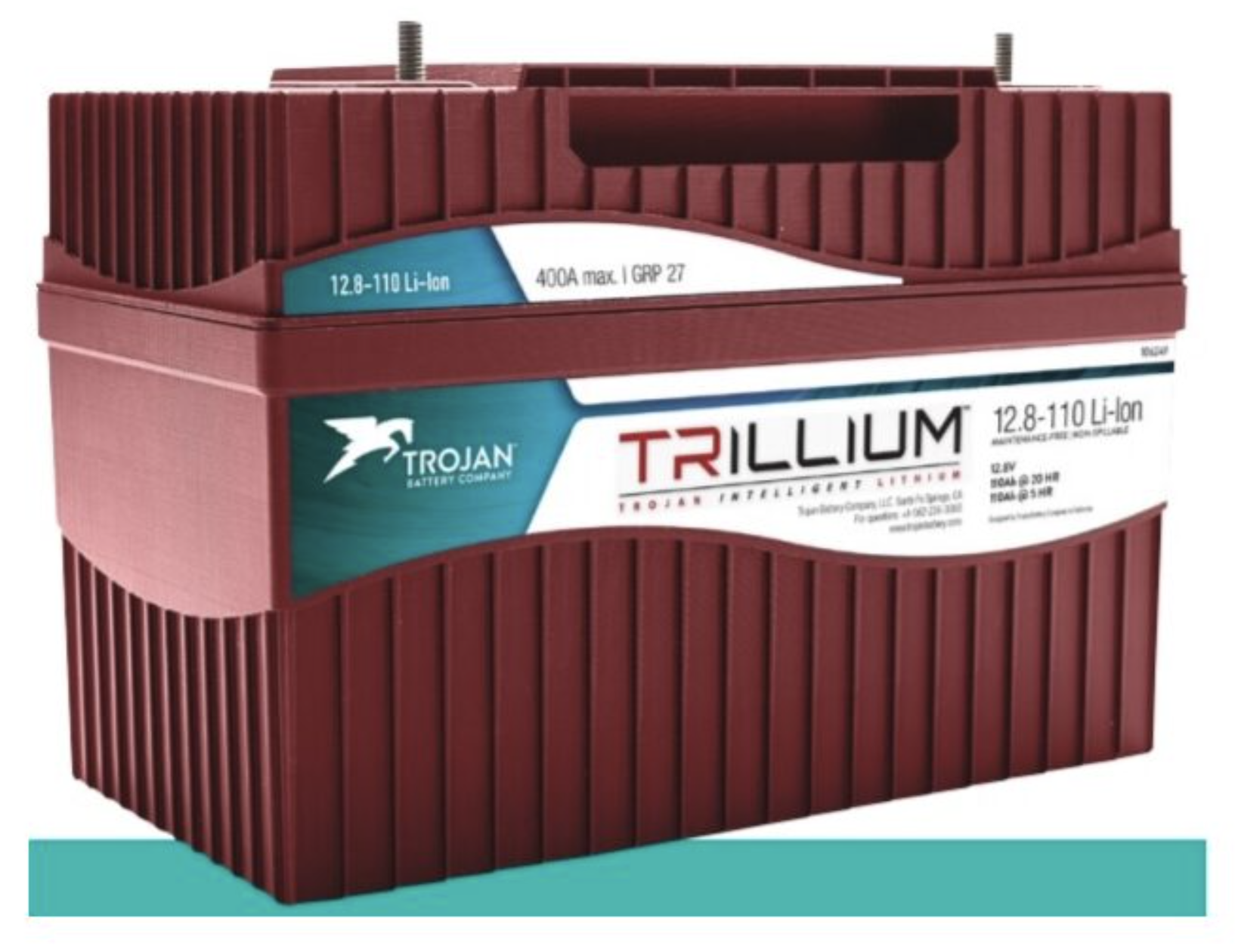 If you have Lithium battery your Converter might be charging it completely, maybe overcharging it? Imagine you have a single 100AH lithium battery and you completely discharged it. The Progressive Dynamics Converter according to my clamp meter will get about 35A of current into my battery. So it will take about 3 hrs of shore power/generator running to get the 100AH back into the battery. Now depending on your converter your actual voltage to the battery will vary, but needs to be checked. Your specific lithium battery will have specific charging voltage requirements but no lithium battery likes to sit fully charged!
Short Battery Life
The most common reason for short battery life (<3 years) is not charging the battery completely. 85% of premature battery failure is due to being under charged. To dig a little deeper, many RVs have 15' of wire between the converter and battery and there will be voltage drop. Your converter might be putting out 14.4v and the battery may only get 13.9v. This voltage loss will keep you battery from getting fully charged and you will loose capacity due to sulfating of the battery plates.
Next – How far to discharge your Lead Acid RV batteries?